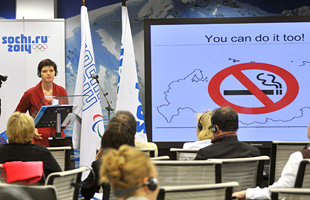 But cigarette smokers may find something unexpectedly missing: somewhere to smoke.
Sochi is a member of the Alliance of Smoke-free Cities Initiative in Russia. During the tobacco-free Olympic Games smoking will be forbidden in all Olympic and Paralympic venues, including all bars and restaurants in the Olympic park. No tobacco products will be sold at any of the Olympic sites. The tobacco-free policy of the Games will be broadcast during all events on scoreboards and radio. This policy is intended to protect the more than 155 000 athletes, sports delegation representatives and volunteers from exposure to second-hand tobacco smoke as well as to marketing and advertising tactics of the tobacco industry.
Alliance of smoke-free cities
The Sochi Olympic Organizing Committee and WHO kicked off the idea of creating an alliance of smoke-free cities in Russia in October 2012. Seventeen cities signed up to the initiative. The goal is to protect people from the harmful effects of tobacco smoke and to act as a platform for sharing tobacco control experiences among representatives of different Russian regions.
The Alliance is one of the initiatives that accompany Russia's ever more rigorous tobacco laws. To fulfil its obligation under the WHO Framework Convention on Tobacco Control, in 2013 the Russian Federation introduced new legislation to control tobacco use, with the technical support of WHO.
The law bans smoking and tobacco advertising in public places, including inside sports stadiums. It has increased taxes and set a fixed retail price for tobacco products, and mandated public information campaigns on the harmful effects of tobacco on health.
What's changed through tighter tobacco control?
The change is tangible. Instead of colourful advertisements, smokers are now confronted with graphic warnings of the harmful effects of tobacco when they grab their increasingly expensive tobacco packs. The main warning, "Tobacco Kills", currently covers at least 30% of the surface area of cigarette packs.
The need to take action was obvious. Between 350 000 and 500 000 Russians currently die every year from tobacco-related diseases. The Global Adult Tobacco Survey from 2009 found that the level of tobacco use in Russia is among the highest in the world. Altogether, 39% of the adult population (43.9 million people) are routine users of tobacco: 60% of all men and almost 22% of women. One in four young people aged 15-18 were smokers. Some 86% of tobacco users smoked 17 cigarettes a day on average, and 35% of adults were exposed to tobacco smoke at their workplaces.
Officials at the Russian Ministry of Health expect that, by 2018, the various measures initiated under the Tobacco Act will cut the number of smokers in Russia by between 23–25%.
But the Government aims to go still further. More measures are in the pipeline. A total ban on tobacco sponsoring and a ban on smoking in workplaces, hotels and cafeterias will come into force in June 2014.
The Sochi Olympic Winter Games 2014 will send a clear message to millions of spectators and sport fans: Governments can and will take action to fight one of the major killers worldwide and protect their people from exposure to tobacco.