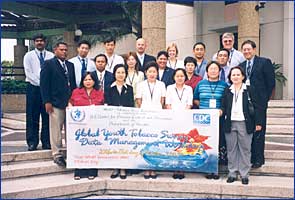 1. Bloomberg Philanthropies:
It has been known as the major international partner for Tobacco Control in Vietnam. The cooperation has been fostered through its network of implementing agencies namely Tobacco Free Kids, UNION, World Lung Foundation, John Hopkins University. The first project has been carried out since 2008. Till now, the continuous cooperation has been enhanced that greatly contributed to the success of development and approval of Tobacco Control Law, supported in sub legal documents in realizing the law, smoke free formulation and capacity building, communication. In the coming time, it will focus on the perfection of Tobacco Control Fund operation and its capacity building to successfully implement the Law.

2. Atlantic Philanthropies, USA
Atlantic Philanthropies cooperated with the VINACOSH to launch the smoke free movements in three project sites during 2009- 2012. It focused on the model of smoke free at school, health settings and administrative agencies though the various strategies of communication, community based development and capacity building for leaders and community activists. After this project, the initial lesson learnt will be draw up for national dissemination.
During 2005- 2009, it also mandated the John Hopkins (IGTC) to launch the project on reducing the consumption and supply of tobacco products. The strategies were to collaborate with ministries and sectors for their compliance with WHO FCTC, capacity building to develop the plan of action and evaluate the tobacco control interventions and capacity building for VINACOSH for supervising and evaluation of intervention results and reporting the tobacco epidemic in Vietnam.
In the next stage of 2013- 2015, it continuously invests on the assessment development of Tobacco Control Fund structure and its operation.

3. An international consultant was sent by the World Health Organization (WHO) to help the program in designing projects, drafting action plans and especially in promoting interest from international organizations. WHO has supported interviews with celebrities on tobacco control topics which have been aired on the central television. WHO has planned to help Vinacosh organize tobacco control communication activities in combination with a trans – Viet bicycle riding tour from Hanoi to Ho Chi Minh City. In 2001, WHO helped to send two program officers to a regional meeting in Australia and in 2002, WHO continued to support the sending of two Vinacosh's officials to the INB3 conference in Geneva for negotiations on the international tobacco control convention.

4. The ROCKEFELLER Foundation: supported VINACOSH in capacity building for the staffs in research and carrying out the project on communication for behavior impact on smoke free at home


5. The Sweden International Development Cooperation Agency (Sida) effectively supported the program between October 1999 and June 2002. After 2002, Sida continued its support in the 2002 – 2006 phase, when Sida's financial and technical assistance aims to achieve three major objectives:
Improving public awareness on the negative effect of tobacco on human health and the economy by means of information, education and communication (IEC);
Capacity building for sustained tobacco control activities and successfully establishing piloting models; and
Intensified enforcement of existing tobacco control related policies and legislations and guiding the execution of the national policy on tobacco control in ministries, sectors and mass organizations.
Sida (Sweden International Development Agency) began its cooperation with VINACOSH during 1999- 2006. The set objectives are raising the awareness of local people on tobacco harms and socioeconomic consequences by the various communication campaigns; capacity building for tobacco control practitioners in the sustainable manner while smoke free development; policy development, highlighted in the National Policy implementation among the ministries and sectors, mass organizations.

6. Health Bridge Canada has worked with the tobacco control program in a number of anti-tobacco activities in Vietnam, such as IEC programs using mass media and some tobacco-related studies in Vietnam.

7. Cooperation with the South East Asia Alliance for tobacco control. Keeping in touch with this organization, the program learned from its experience and explored the possibility of collaborating actions in the region (May 2001). Visits were made to tobacco cessation consulting establishments in Malaysia to share experience on building consulting rooms in health facilities.

8. Tobacco Control Group Meeting in Vietnam. On a monthly basis, the program sits with organizations and member establishments that are engaged in tobacco control activities, including both local and international players like Vinacosh, WHO, Health Bridge, CDS IOGT, Vinatash (a newspaper of Vietnamese consumers) and Hanoi School of Public Health.

9. Some other international organizations and colleges have shown interest in tobacco control related coordinated studies and capacity building activities in Vietnam. Specific commitments have yet to be made, though.